English Recap:  This is RAW LATIN ROCK! This is challenging everything you hear in English indie rock and saying to LATAM that spanish rockers are legit. We love that Banda de Turistas is making this statement for us Latin Independent music lovers!
Delivery de Milagros es la canción elegida por Banda de Turistas como segundo sencillo de Lo que más querés, su último disco de estudio. El tema es además el sucesor del hit Química, que se dio a conocer a fines del año pasado y que sin esfuerzo trepó a los primeros puestos de radio y televisión en Argentina, posición que mantuvo por varias semanas consecutivas; además de colarse en bares y boliches Argentinos en sus varias versiones remix; y de superar el millón de reproducciones en Youtube con su psicodélico videoclip.
Delivery de Milagros se lanza en simultáneo con su video, una fantasía concebida por el director Milton Kremer en la que los integrantes deBanda de Turistas son perseguidos por las calles de Buenos Aires por el actor colombiano Anderson Ballesteros, quien interpretó el temible personaje de El Chili en la serie colombiana El Patrón del Mal. En su rol de sicario, Anderson actúa esta vez bajo las órdenes de Adrián Dárgelos, líder de Babasónicos, quien le ordena liquidar a los músicos.
Así, con dos invitados de lujo Banda de Turistas da continuidad al trabajo de su más reciente disco de estudio, que contó con la producción de Tuta Torres y Juanchi Baleirón (en los temas Química y Porque será).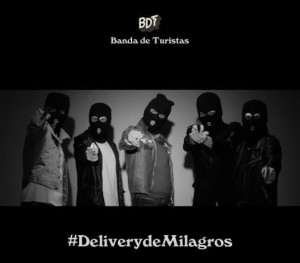 Comments
comments