***English Translation Below***
El Mejor artista de Rock/Pop Alternativo en español que surgió de la comunidad Indie de Miami con canciones notables como "Me La Robo" y "Mi Cielo Perdió Un Ángel" ha regresado con mas fuerza con el lanzamiento de su segundo CD llamado "12 Historias en 3 Tonos." Este nuevo disco y su excelente calidad es la razón que Monte*Rosa es el artista del Mes de Febrero 2009.
Estructurado como una obra maestra entre temas sociales y relaciones intimas, desde el principio notaran la estructura magnífica de la letra. Sea con melodías, ritmos, instrumentos o lírica, este disco definitivamente se separa de los demás discos de rock y establece una norma para la verdadera musicalidad. Hay tantas canciónes buenas en el disco pero si me toca escoger la mejor, en mi opinión, seria "Entre Tu y Yo." Una canción enraizada en su tierra natal de Barranquilla, Colombia pero con tonos muy rockeros. También se debe notar que el álbum fue mezclado entre el estudio ingles "Bank Cottage Studios" y el prestigioso de Miami, FL "The Hit Factory Criteria". Se te consideras un aficionado a la música en español o si eres un muchacho y quieres impresionar a las mujeres, necesitas este disco en tu colección de CD's o playlist de iPod. Su pagina Web siempre esta bien mantenida y tiene fotos, blogs, eventos, música, vídeos y noticias constantemente actualizado. Es la pagina preferible para enseñarle a todos tus amigos un poco de este gran músico que sigue representando la comunidad Latina con mucho honor. "No Eres Un Sueño", el primer corte de su disco nuevo lo pueden bajar gratuitamente en su pagina. Disfruten y apoyen al talento local.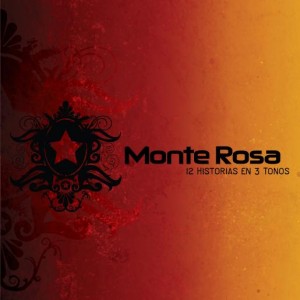 ► The best Latin Rock/Pop artist to emerge off of the indie scene with hits like "Me La Robo" and "Mi Cielo Perdio Un Angel" has come back even stronger with the sophomore album "12 Historias en 3 Tonos". This new album and its excellent quality is why Monte*Rosa  is the Artist of the Month for February 2009.
Structured like a classical masterpiece this album consists of 12 songs in 3 musical modes, from topics on relationships to social issues, one doesn't have to listen far to hear the superb songwriting and experiences Monte*Rosa embodies. Whether it's melodies, rhythms, instrumentation, or the lyrics this album definitely sets a standard for true musicianship. There are so many good songs on the album, but if I personally had to choose one it would be "Entre Tu y Yo". A song strongly rooted in his hometown of Barranquilla, Colombia with a strong rock vibe to it. Also noted is the fact that it was mixed between the english studio "Bank Cottage Studios" and the prestigious "The Hit Factory Criteria" in Miami, FL. If you claim to be a music aficionado or guys if you want to impress the ladies you need this album in your CD player and/or Ipod ♪♫♪….make sure you have it! His webpage is always well maintained and it has photos, blogs, events, music, videos and news constantly updated. "No Eres Un Sueño", the first single off of his new album is available as a free download on his webpage. Enjoy and support your local talent.
Webpage: http://monterosamusic.com/

Monterosa – No Eres Un Sueno from Monte Rosa on Vimeo.
Foto de titulo proveído por/Title photo provided by: monterosamusic.com

Comments
comments