Press Release: Arroz con Leche-Dec 5th
PulsoBeat – Tequila Patrón & Ultimat Vodka present:
"Arroz con Leche"
An eclectic showcase of music & visual art
Arroz con Leche is an industry social night gathering of Latin Music, Social Media, Art, and Multi-Media professionals of Miami. We have a special Art Basel showcase with 19 Visual Artists at Transit Lounge (729 SW 1st Ave Miami, FL 33130 ). Sat, Dec 5th from 10pm-5am. FREE Event. ***Official Afterparty of King Chango concert earlier @N.Beach Bandshell.
Music: "Arroz con Leche" monthly entertainment industry networking and music event proudly introduce, LA's hottest Electro Roots band: PALENKE SOULTRIBE
With Dj's: Stereo 77 & Thinkdifferent (Filtered Sunshine Radio), Carlito-Sway and EPHNIKO playing the best in Cumbia, Funk, Salsa, Soul, Tropical Bass and Baile Funk
Art: The Visual Art aspect of the "Arroz con Leche" showcase will consist of 19 of Miami's premiere visual artists. Each artist will be displaying two pieces of original art, totaling 34 works of art on display at the event. All artistic mediums ranging from acrylic and oil to spray paint and styles ranging from abstract and portrait art to graffiti, will be represented. All of the 19 artists will be creatively collaborating on a 30′ mural, "live" at the event.
The artwork on display and limited edition artist's merchandise, ranging from poster prints to tshirts will be available for purchase.
Visual Artists are as follows:
Ross Ford
NF Romero
Pete Wolleager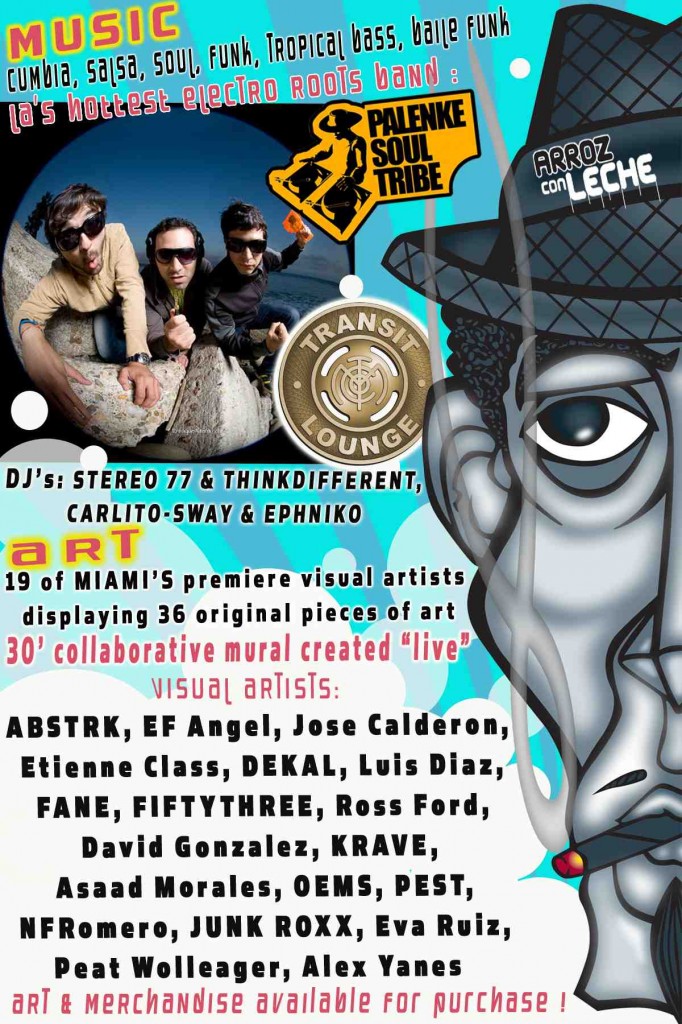 OEMS
FIFTYTHREE
E.F.Angel
DEKAL
David Gonzalez
PEST
Eva Ruiz
ABSTRK
Etienne Class
KRAVE
FANE
Luis Diaz
JUNK ROXX
Asaad Morales
Jose Calderon
A. Yanes
Official Website: http://arrozconleche.org/
Comments
comments