A Band Of Bitches: un grupo con identidades ocultas
A Band Of Bitches celebra su nominación al Latin Grammy como Mejor Nuevo Artista confirmando su asistencia a la entrega de los premios  en el Mandalay Hotel de Las Vegas este próximo 21 de noviembre.
Esta b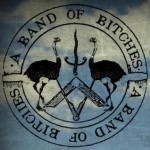 anda es un proyecto musical que nació como un concepto audio visual hace 2 años bajo el liderazgo de Ushka, quien es compositor de los temas y quien mantiene su rostro y nombre real bajo el anonimato. El resto del grupo, también con personalidad oculta, está compuesto por excelentes músicos latinoamericanos con trayectoria.
Ushka es un músico que se ha desarrollado de manera profesional y exitosa desde hace casi 20 años, pero no fue hasta el 2011 que empezó a componer lo que sería el álbum debut del grupo titulado "The Pre End Of The World Soundtrack", producido por Heriberto López.  El tema "Noreste Caliente" es el segundo sencillo del álbum que se convirtió en un  gran éxito radial llegando a los primeros lugares de las listas en México y su video, dirigido por Antonio Guajardo, cuenta con mas de 2 millones de vistas en Youtube.
A Band of Bitches cerrará este año con el lanzamiento de un nuevo sencillo que vendrá incluído en el próximo EP que se estrenará a principios del 2014.
Comments
comments