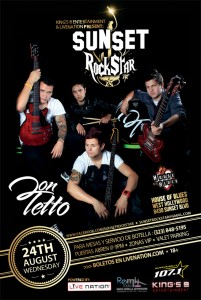 La banda colombiana Don Tetto se presentará el próximo 24 de agosto en el legendario House of Blues de Los Ángeles en West Hollywood.
El concierto de Don Tetto en House of Blues es presentado por Live Nation, la compañía de conciertos más grande del mundo, que produce cerca de 22 mil eventos por año. Además de organizar shows en vivo, Live Nation se encarga del manejo de más de 100 escenarios en todo el mundo.
"Estamos muy felices por presentarnos en uno de los escenarios más importantes del rock en el mundo. Por The House of Blues of Sunset Strip han pasado artistas que admiramos y ahora tener la oportunidad de pisar ese escenario es un privilegio y al mismo tiempo una gran motivación para entregar un show increíble a nuestro público. Por esa tarima han pasado The Misfits, Stone Temple Pilots, Slash, ZZ Top, Billy Idol y muchas estrellas más", comentó Diego Pulecio, vocalista de Don Tetto.
Antes de su concierto del 24 de agosto, Carlos Leongómez, Jaime Medina, Diego Pulecio y Jaime Valderrama estarán presentes en la ceremonia de los Premios Texas 2011, en la que Don Tetto está nominado como artista revelación.
Las entradas para el concierto de Don Tetto en The House of Blues de Los Ángeles están disponibles a través de www.livenation.com.
Comments
comments